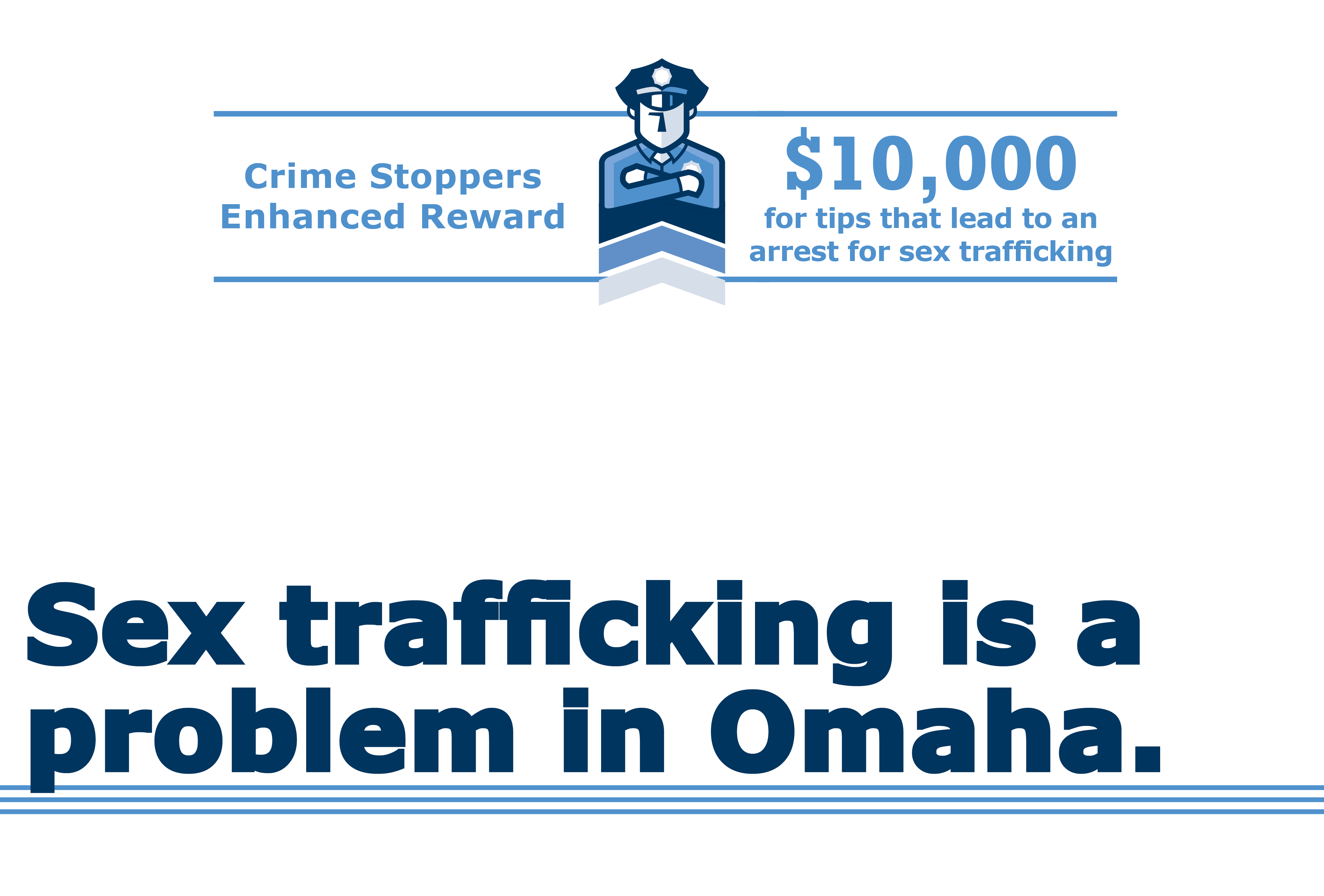 Sex trafficking is a diverse and complex crime. And it's happening all over our city.
What is sex trafficking?
Sex trafficking occurs when someone uses force, fraud or coercion to cause a commercial sex act with an adult, or causes a minor to commit a commercial sex act.
What is a commercial sex act?
It includes prostitution, pornography or sexual performance done in exchange for any item of value, such as money, drugs, shelter, food or clothes.
Where does sex trafficking take place?
Sex trafficking exists within diverse and unique sets of venues and businesses, including: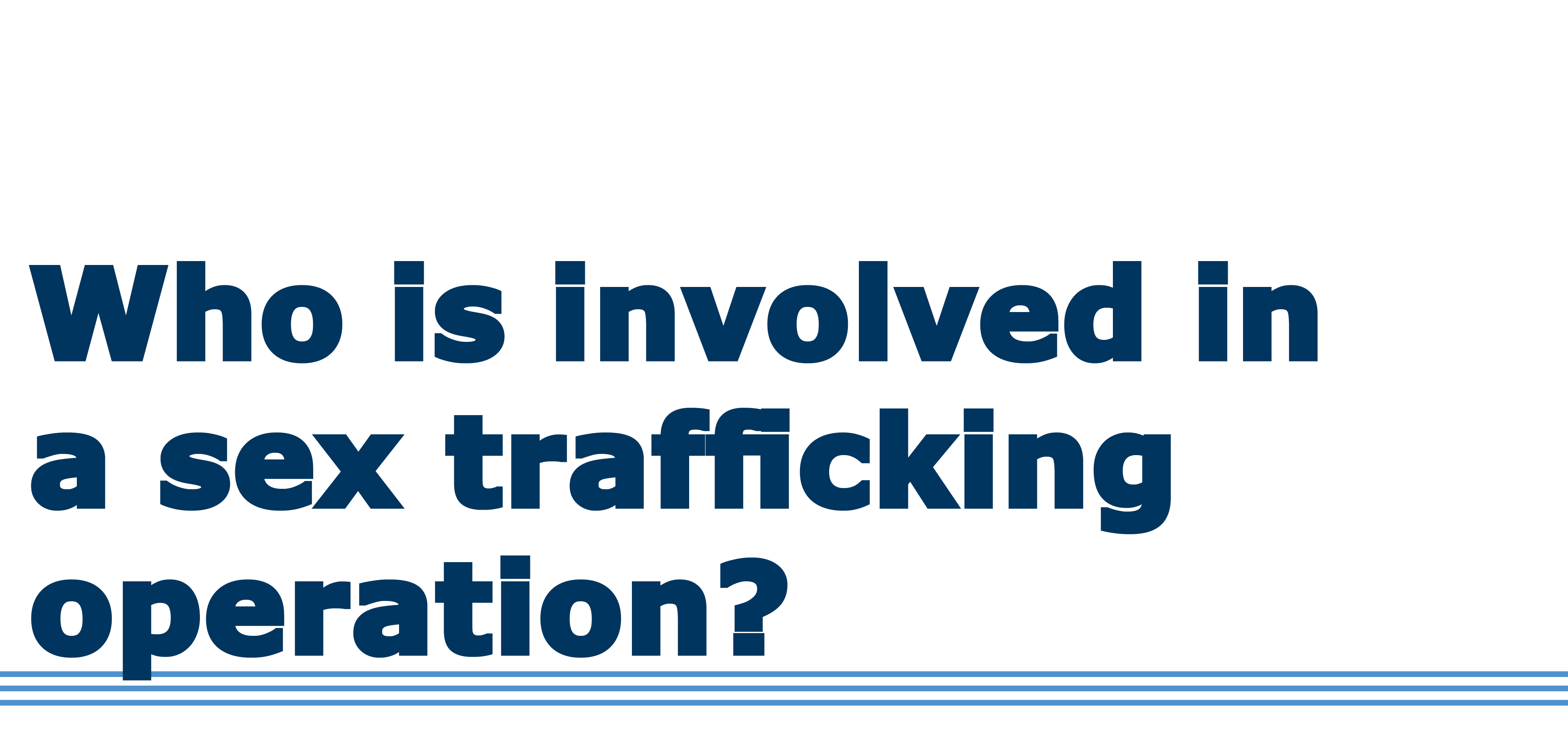 Not all sex trafficking operations are the same. However, some commonalities include a diverse network of traffickers, recruiters and operation heads.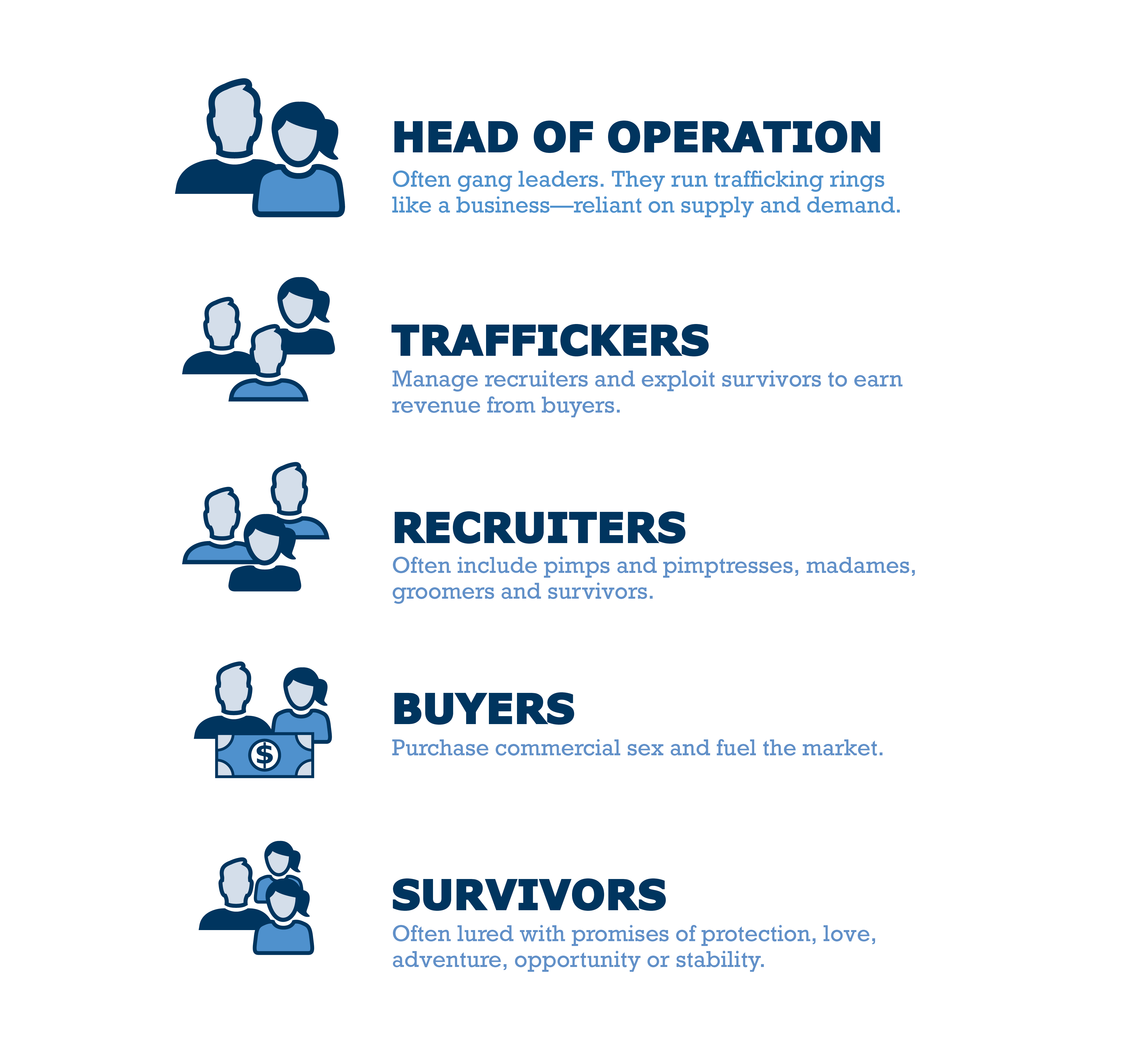 Sex trafficking is a market-driven criminal industry—all reliant on supply and demand.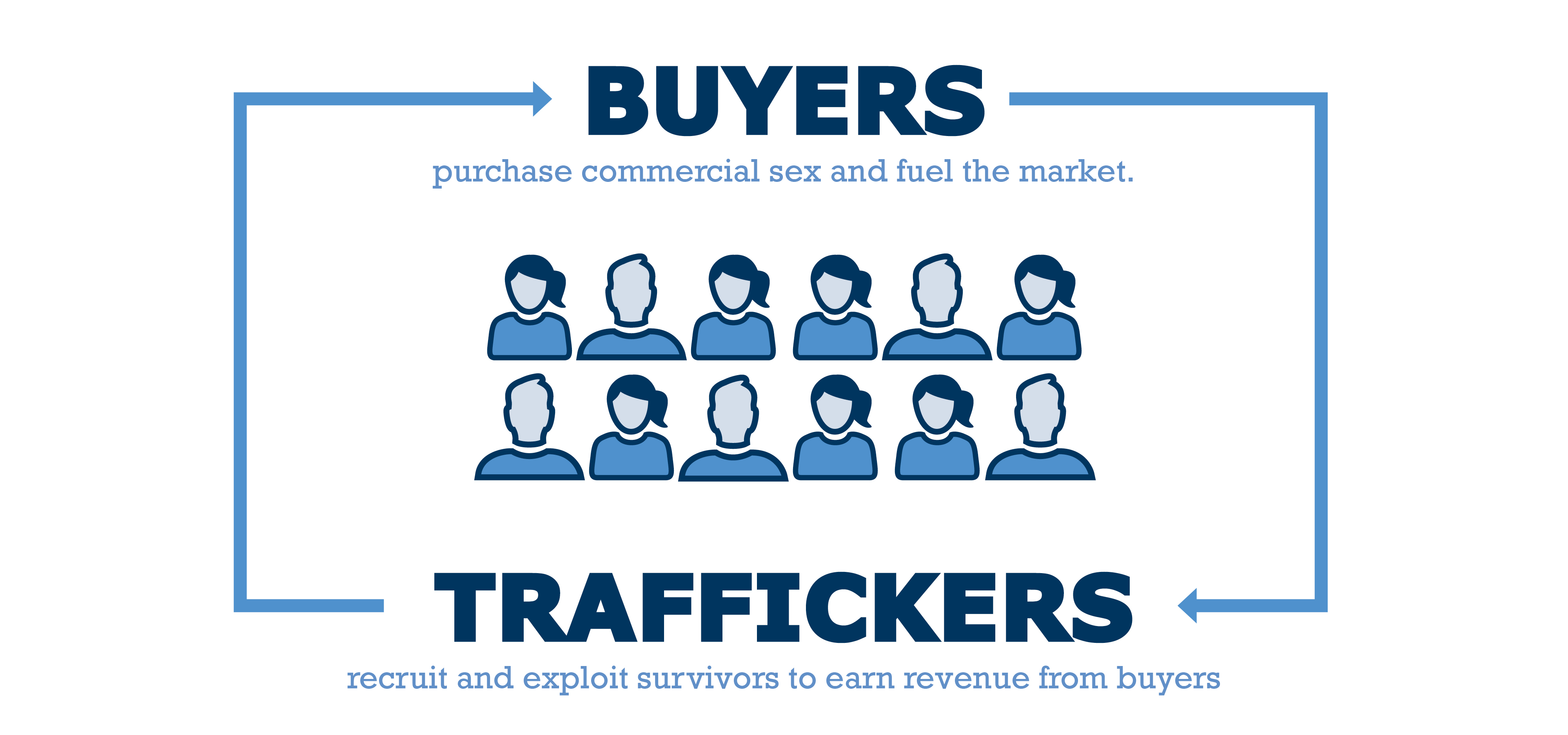 By not buying sex and not participating in the commercial sex industry, community members can reduce and remove the demand for sex trafficking—and give survivors a pathway toward freedom.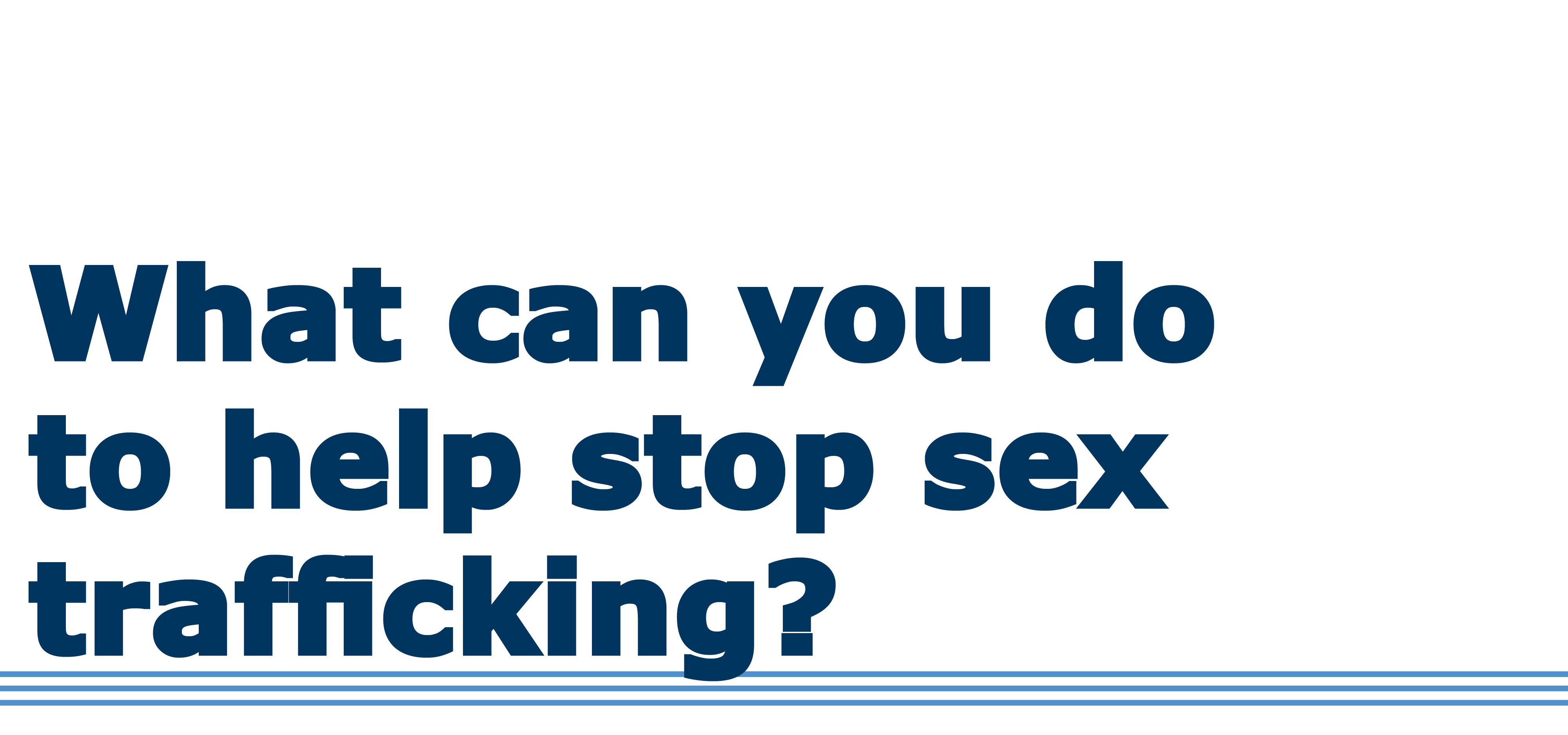 RECOGNIZE WARNING SIGNS
Warning signs that an individual may be being trafficked:
Minors traveling without adult supervision or with someone who speaks for them

Avoids eye contact; alone, unkempt, scared/crying, disheveled appearance

Physical abuse such as burn marks, bruises or cuts

Dressed inappropriately for weather or age

Offer to exchange sex for ride, meal, etc.

Fearful or anxious behavior if bringing up law enforcement

Signs of branding: initials, name, saying or symbol; may deny knowing meaning of the tattoo

Withdrawn, submissive, tense, nervous and paranoid

Does not know the person who is picking them up (on the street, at bus or train station)

Looks malnourished or exhausted

Has few or no personal belongings, may not have control of money or ID

Claims just visiting, traveling with relative, inconsistent story, inability to provide address or information where staying

Interacting with significantly older people (male or female), and sharing personal information online
Warning signs that an individual may be a trafficker:
Jealous, controlling and violent behavior

Significantly older than companions

Promise things that seem too good to be true

Encourage victims to engage in illegal activities to achieve their goals and dreams

Buys expensive gifts or owns expensive items

Is vague about his/her profession

Pushy or demanding about sex

Encourages inappropriate sexual behavior

Makes the victim feel responsible for his/her financial stability. Very open about financial matters.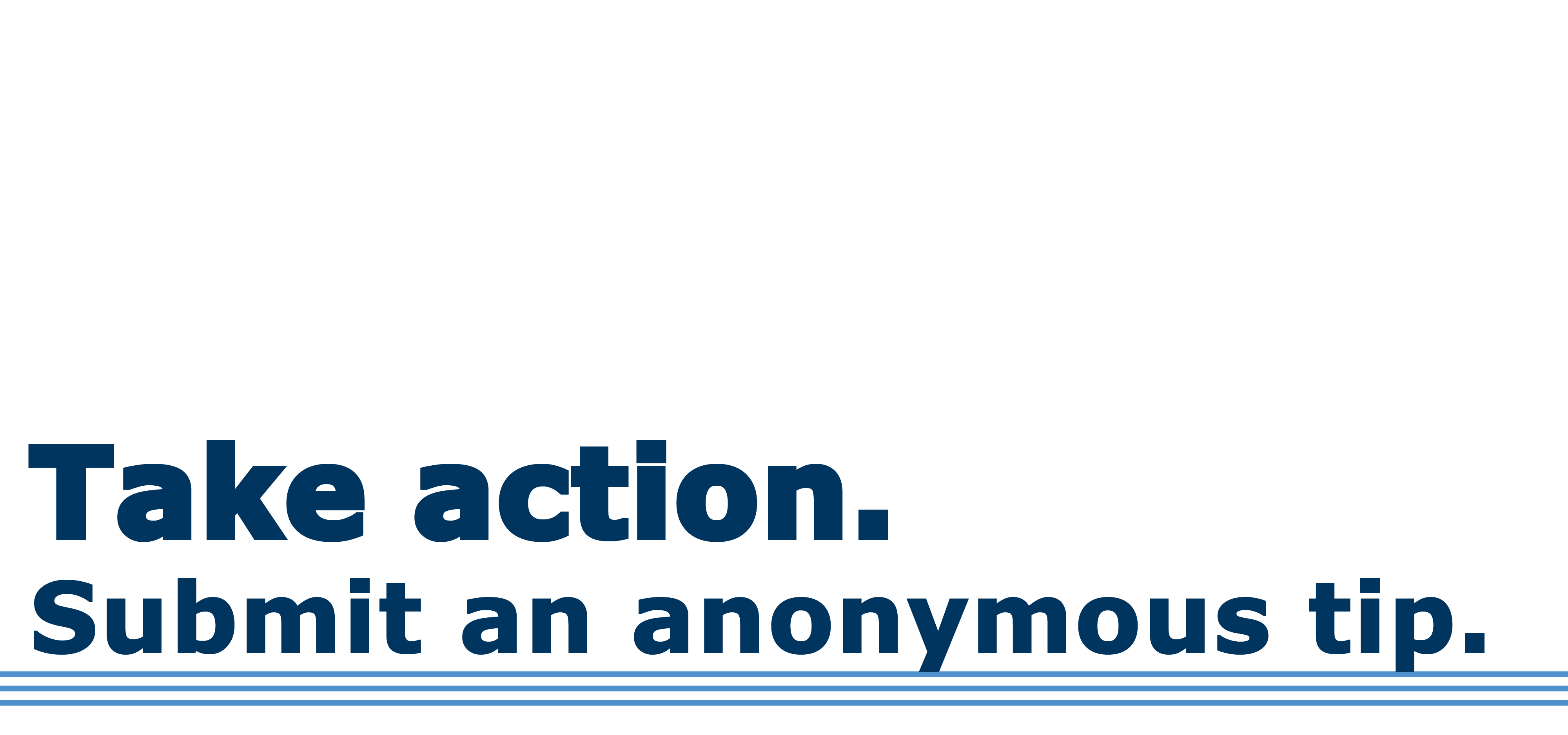 If you have any information or tips regarding sex trafficking, you can safely submit a tip to Omaha Crime Stoppers.
Helpful info to include in your tip:
• Usernames
• Common locations where "parties" or "dates" are taking place
• Emails
• Phone numbers
Whether you leave a call or online tip, all tipsters will remain anonymous—and are eligible to receive a cash reward if the information given leads to an arrest. Our enhanced reward is up to $10,000 for any tips that lead to an arrest for sex trafficking.

Together with the community, we can save lives and make Omaha an even safer, happier city.